Quite often, we drop the plan to study further due to a lack of funds and financial support from family. Sometimes, we save money for studies, but due to some unfortunate incident, we end up consuming the saved money in healing ourselves and struggle to accumulate money for future higher studies later. Higher studies are no easier on the pockets and for some, acquiring academic degrees have really become very difficult due to their unaffordable fee structure. Lack of financial aid forces hundreds of students to quit their studies midway, and this scenario is everywhere in the world.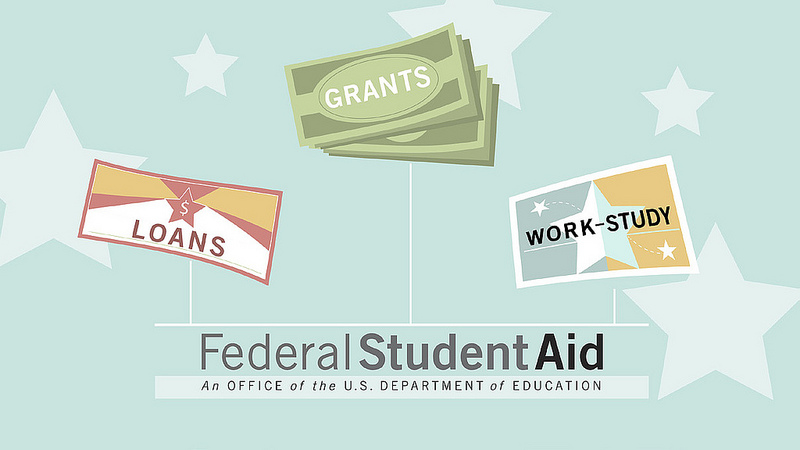 According to a survey by Ohio State University's National Student, Financial Wellness Study 72% of college students experience financial stress due to the incapability to pay for tuition (60%) and meet monthly study and study-related expenses (50%). According to Intelligent.com, 39% of students drop out of college because of financial constraints. They chose to work and earn instead. In the last couple of years, the percentage of students quitting studies has increased. 
Therefore, the figures above prove that paying college fees is a daunting task these days. 
However, to meet this need of the students of today and help them and their families, several federal financial aid options are introduced. These aids are intended to cover the costs of higher education. Here are three types of federal financial aid that can help you pay for college fees: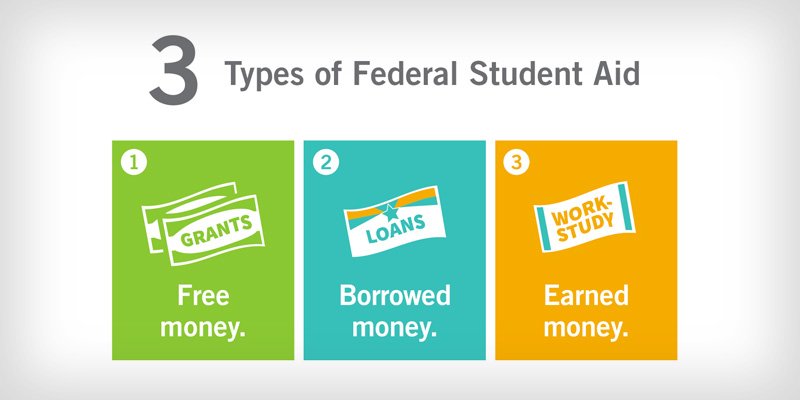 Grants
Grants are a type of financial aid for students that do not need to be repaid. Students who receive grants will not have to repay. Federal Pell Grant is the most common type of grant and is awarded to undergraduate students who are yet to earn a bachelor's degree. Other types of grants include the Federal Supplemental Educational Opportunity Grant (FSEOG), awarded to undergraduate students with exceptional financial need, and the Teacher Education Assistance for College and Higher Education (TEACH) Grant is awarded to students who plan to become teachers in high-need fields. So, if you fall in the eligible category, you can apply for grants. 
Loans
Loans as we all know are provided as financial aid to students to support them in their higher studies, but loans must be repaid, with interest. You can apply for Federal student loans offered through the government. This loan has fixed interest rates and also allows flexible repayment plans, making it easier for students to repay in easy instalments. The two main types of federal student loans are Direct Subsidized Loans, awarded to students based on their financial needs, and Direct Unsubsidized Loans can be provided to anyone even if there is no financial need. Direct Subsidized Loans are awarded to undergraduate students, while Direct Unsubsidized Loans are for both undergraduate and graduate students. So, if you come in this category you can avail of loans as per your eligibility. 
Work-Study
The work-study program is for students who want to work and earn to finance their studies. The Federal Work-Study Program allows part-time employment opportunities to undergraduate and graduate students who has financial need. The purpose of this program is to help students pay for their education expenses by earning money. The funds are disbursed directly to the student. Work-study jobs are normally related to the field of study of the students and are a great opportunity for students to gain valuable work experience along with financial support. 
In addition to the above three types of federal financial aid for education, you will also find state- and institution-based financial aid programs. If you too are seeking financial aid to fund your higher education, you should start researching and applying for all financial aid opportunities available for you as per your eligibility. It will maximize your chances to receive financial support.
However, while you apply for financial support for maximum help in funding your education, it is important to be informed that the availability and amount of financial aid awarded can vary depending on a variety of factors. The factors include the student's financial need, the cost of attendance, and the availability of funds. You as students should carefully review your financial aid award letters and compare offers from different schools in order to make an informed decision about which institution to attend and if the funds that you received will allow you to study in a particular school. 
Conclusion 
Paying for your college fees can be a significant financial burden for you. Many times, it may compel you to quit your studies too, which may not be a very pleasant choice for any sincere and committed student with big dreams in their eyes to make it big through higher studies. This is when financial aid comes as a huge relief. With the readily available federal financial aid options to help you and your families bear the costs of studies, you will definitely be able to live your high education dreams. Grants, loans, and work-study programs can be stress-relieving support to provide the financial assistance needed to pursue higher education and achieve academic success.