"Studying abroad is not just about getting an education; it's about exploring the world, discovering new cultures, embracing diversity, and creating lifelong memories."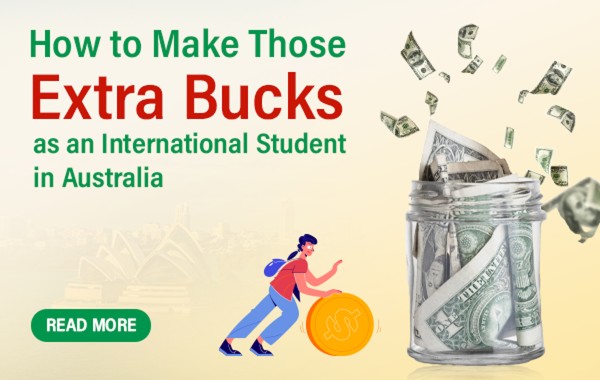 Australia is one of the most preferred destinations for students. It is the 3rd most desired in English-speaking nations, behind only the US and UK. Though ‌education costs are less as compared to countries like the USA, the cost of living can be high. So, if you want to better manage that, working part-time is a good option for you. 
You can easily manage a significant portion of your study cost by doing some part-time work, making new friends and of course bettering your experience of this land of kangaroos by integrating with the local folks.
Let us tell you how:
What are the Work Permissions on Student Visas?
On having a student visa, international students are permitted to work 40 hours + a fortnight i.e., two weeks during the semester, if they are pursuing some preliminary course. During the semester break, they can work for unlimited hours.

For Ph.D. and post-graduation candidates, when the thesis work commences, they can work for unlimited hours.

The pay will be on an hourly basis regardless of the job profile.

Also, on completion of study requirements, you can acquire post-study work permits. 
Things to keep in mind
On staying for more than 6 months in Australia, even for education purposes, you will be regarded as an Australian

Resident

as far as tax purposes are concerned. So, you will be required to pay taxes on income earned. It is mandatory for you then to file a tax return. Besides, you will be eligible for tax benefits.

You can not start your part-time work before the commencement of your academic course even if you arrive a few months early.
What does the law say?
These are the rights in place to protect the interests of part-timers by the Australian government. Better check these out if you are planning to get your hands on some work:
According to Post-Pandemic Part Time Rules, those students who have applied for a student visa in march of 2022, are allowed to work ‌40 hours per fortnight. The division of hours can be done at the student's ease.

As per

Fair Act 2009, a minimum wage of AUD 20.33/hour and 772.60 per week

will be provided.

You have a right to oppose unfair dismissal and seek ‌a secure and healthy place for work.

Relaxation breaks are available for part-time employees.

Eligibility includes – holding a valid student visa, enrolment in a full-time study program recognized by the Australian government, meeting ‌academic requirements and attendance, and overseas health cover.

Though requirements for different jobs can vary, however, on meeting the above you can at least apply for unskilled part-time work.
What are the part-time work opportunities available?
Finding a part-time job starts with having a good CV. You should mention specific interests and related hobbies since a part-time work CV does not require specific work experience. Along with that, if you have excellent soft skills, that will be the cherry on top.
These are some of the jobs which students of any field can undertake:
On-campus Jobs

: Many universities in Australia provide job boards or career centers that list on-campus employment opportunities such as library assistant, research assistant, administrative staff, or tour guide positions. On-campus jobs offer convenient employment options with flexible hours to fit around study schedules.

Off-Campus Jobs

: International students can explore off-campus job opportunities such as hospitality, retail, customer service, tutoring, or childcare. Look out for job listings on online platforms as well as local newspapers or community notice boards and employment agencies for available positions.

Internships and Work Integrated Learning (WIL) programs:

In Australia, universities often form partnerships with local businesses and organizations, offering internships and work placement opportunities to their students. These internships and placements provide invaluable work experience while giving you a chance to earn money while studying – check with the career services office of your university for available positions.

Freelancing and online work:

If you possess certain talents or skills, consider freelancing online using platforms that offer freelance work to work remotely in areas such as graphic design, writing, programming, or language tutoring. Make sure that all Australian visa and taxation requirements for freelance work are fulfilled before undertaking freelance work remotely.

Tutoring and Teaching:

If you excel in certain subjects or languages, consider offering your tutoring services to other students. Advertise them on campus notice boards or online platforms and some language schools or community centers may even hire international students as language teachers.
Some of the highest paying jobs are – driver, babysitter, delivery person, personal trainer, web developer, web designer, jobs in retail shops, and freelancer among others. 
Part-time work indeed comes with many advantages but make no compromises with your studies. You must not deviate from your main aim, for which you have come so far. And of course, do not compromise your health and take care of yourself.