Gone are the days when you used to enroll in college, attend lectures, apply for a job, and work in just one place until retirement. In this advanced, globalized, and more competitive world than ever, only one thing is permanent and that is 'Change.' Today's generation is increasingly accepting and writing their professional story by engaging in part-time roles that reflect their passions, interests, and personal obligations. The increased prevalence of part-time work has heralded a new era characterized by empowerment, autonomy, and an unpredictable career journey. However, here we will discuss ‌the various job opportunities that students may get into while studying, some to support their education costs, some to gain experience outside of studies, some to learn new skills, some for exposure, and some just for fun and personal expenses!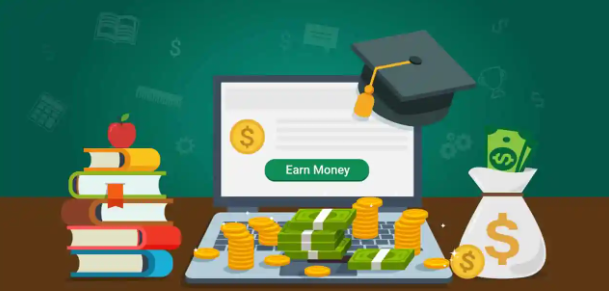 Let us tell you how:
Part-time job opportunities on or near campus
Many colleges have job boards or career services that can assist with finding employment in areas like campus administration, library services, cafeteria operations, or retail services.
Many professors, hire a few students to help them out in sorting papers and doing research work. You can work with your professors. 
Freelancing
Leverage your skills to offer freelance services such as writing, graphic design, web development, or social media management. Clients can be found online through freelance platforms or networking with locally owned businesses.
Proofreading 
It is one of the popular works of freelancing. This sort of work is ideal for you if you are passionate about your hobbies such as writing, and designing, and want to monetize them in the long run as a side hustle. Not only will you get experience, money, understanding of the market but some valuable connections as well.
Becoming a virtual assistant
Nowadays, lots of people and businesses outsource basic work such as responding to emails, and research tasks among others. By doing this assistant type of work, you can earn a few dollars monthly.
Transcription work
For those of you who have amazing typing speed and want to get paid for listening and typing, this is for you. 
Online tutoring
Offer tutoring services in subjects your Excel is in. It will strengthen your grasp on those subjects as well. Numerous websites and platforms connect students with tutors, enabling you to teach while earning money from your dorm room!
You can start your course on various online educational platforms or even start your youtube channels. 
Rent your stuff out
Guys! This one is the easiest. No investment, nothing at all. You can easily rent out your car, even a bicycle or if you are living in your place, consider renting out some extra space.
Campus ambassador or brand representative
Many companies and brands hire college students as campus ambassadors or brand representatives for products or services they want to market on campus, often at competitive wages and with additional perks and decent income potential. These roles often provide access to additional income sources.
Sell textbooks and class notes
Consider offering your used textbooks and class notes for sale through online marketplaces, campus bulletin boards, or social media groups. This could save money while helping other students save space and money. By reusing, you will be conserving ‌resources as well.
Not only textbooks, but you can also sell anything from your artwork, and ideas to homegrown products.
Campus gigs
Keep an eye out for opportunities on your college campus to earn extra money, such as taking part in paid research studies, being a campus tour guide, acting as a resident advisor, or helping with event organization. You can also apply to a temp agency and they can connect you with businesses with short-term needs.
Deliver services
Signing up as a delivery person with local restaurants or food delivery apps offers flexible work hours while earning extra income by fulfilling customer orders and earning money as you drive from customer to customer.
Online surveys and tasks
Look into reputable websites offering paid surveys, microtasks, or user testing opportunities as an additional income stream in your free time. Although the income may not be substantial, these tasks can still help generate some extra cash!
Create an app
Elon Musk sold his 1st software programme named Blastar at the age of 12 guys! Granted, not everyone can be musk. But, if you have some coding skills, it is time to put them to use. You can create some apps or anything. Giants like Microsoft pay hefty to find errors in their products. This is one of the easy (and of course hard) ways to earn money fast!
Start a blog or YouTube channel
If you enjoy writing or video creation, consider starting a blog or YouTube channel and monetizing it with ads, sponsored content, or affiliate marketing. While building an audience may take time and effort, the long-term rewards can be immense. 
Influencer Marketing
This is a lucrative job. You don't need fancy college names, lots of investment for this, just some good content. It's growing exponentially, with $1.7 billion in 2016 to $16.4 billion in 2022. 
Babysitting
A typical babysitter can earn around $20 an hour. You can also consider pet sitting, If you love animals, this work is a kind of treat as you will get to make some furry friends.
Work as a bartender
So if you like more engaging work, consider this one, you can earn some great tips too.
Get into pool service
Well, there is one thing about pools, they look so good but are challenging to look after. That is where you come into the picture. So, if you know one or more things about pools, you can monetize them.
Get an internship
The most popular one and it will help you in your career immensely.  Most of the internships are paid, and you can get real-time skills and experience. Though most of them are over the summer, some companies propose extended ones as well so you can remain an intern during the time of school as well. 
It's a good thing you finished the article, now get up and get things going for you!!!