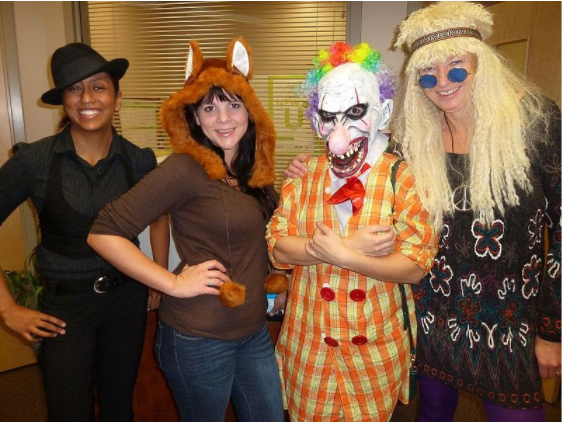 It's the best time of the year again. The air is chilling, leaves are falling and there are pumpkins everywhere! Every year at this time, you can plan on seeing university students throughout the US out in "Halloween costumes" on the streets. Some of these people are dressed up extravagantly with awesome make-up while some are far from the mark.
Halloween parties are another great thing of this season. A lot of money is put into various Halloween party supplies and costumes by university students. However, there can be some issues related to Halloween parties on campuses. The major one is that- sometimes these clothes or decorations can be inappropriate or offensive to certain members of the campus community. To have a successful Halloween party on your campus, it's important to know how to plan for this Halloween so that you don't get embarrassed.
Transtutors experts love Halloween! And there are here with some of the best Halloween ideas for university campuses:
Appropriate yet Creative University Halloween Costume Ideas
Here are some easy-to-assemble and great Halloween costumes that never go wrong in academic settings:
Zombies: 

This is an awesome and very easy costume idea. All you need to do is get some white clothes. Get a paintbrush and use it to make "bloody" smudges on the clothes. Now put some fake blood around your mouth, eyes, or other body parts that are cut or wounded in the movie. You can also put some white powder on your face so that you look pale and have dark circles around the eyes. Simply wear this costume with a carefree attitude and see the reactions of people around you!
The Grim Reaper:

 If you want to be far away from the "Halloween" stereotypes then go for this pale and scary-looking costume. A black robe and a scythe are all that you need to make an awesome-looking Grim Reaper. You can also add some skull lightning effects on your face with dark eye shadows.
Angry Birds: 

This is another easy yet creative idea for university students who want to attend Halloween parties on campuses. All you need to do is get an Angry Birds costume. There are some cheap ones available online. You can also paint a red headband on your forehead and draw the angry bird's beak.
Frankenstein: 

For this awesome idea, you will need some basic makeup items like white face powder and yellow eye shadow. Get a white shirt and black pants from your wardrobe and start with the makeup. Apply yellow eye shadow on your forehead, under eyes, cheekbones, and jaw to make the face look like the head of Frankenstein's monster. Now blend it well. Use white powder all over the face as the foundation for this makeup. You can also use some dark eyeshadow to give a sunken look. To finish up the makeup, you can put some fake blood on the corners of your mouth and blend it well with black eyeliner.
Mad Scientist: 

This one is another great costume idea for university students who want something different from the usual "Halloween" stereotypes. You just need a white shirt, a pair of black pants and some basic makeup for this one. All you need to do is put some white powder on your face. Use dark eye shadow to give your face a sunken look. Now use black eyeliner on the corners of your mouth. Finish up with an awesome "mad scientist" hairstyle – comb back all your hair and let it stand upwards in the style of Einstein.
A Potato: 

If you have a sense of humor then this one is for you! This idea can be great if you can manage to pull it off. The idea is to paint your face green and wear a green shirt with grey pants or shorts. You will also need some hair gel or wax to achieve this hairstyle.
A Vampire: 

This is another great Halloween idea for university students who want to dress up differently. You can simply put on some fake fangs and paint your nails black with red polish. If you are a girl, then you can go all out with the makeup and put on black eyeliner, red lipstick, and fake blood around your mouth. If you are a guy, then just use some black eyeliner and add a fake scar under the lip.
Ghost: 

This is another super easy Halloween costume idea for university students. Simply get a white sheet and cut it into the shape of a ghost. Now get out your sewing kit and sew some eye-holes in this costume. You can also add some fake blood around the eyes for effect. This idea is cool because you can use the same costume next year too!
A Pirate: 

There are many ways that you can dress up as a pirate for Halloween. Just get some old clothes, some face paint and some accessories like eye-patch, fake tattoos, etc.
A Werewolf: 

This is another super easy idea that will amaze your friends with its simplicity! All you need to do is get yourself an awesome-looking face paint. You can buy some face paints online. For university students, it is best to get a few brushes and makeup sponges along with the paint. It is also better if you practice your face painting skills beforehand. You can use dark brown or black color for this one. This idea will work well in groups too!
Awesome Campus Decor Ideas for Halloween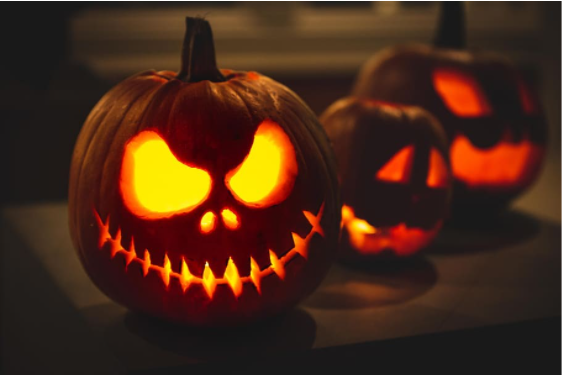 Halloween is a great opportunity to show off creativity and decorate on campus with friends. Here are some great ideas for Halloween on college campuses:
Pumpkins:

 If you have time, energy, and some money to spare then this idea will be perfect for you! This idea requires some preparation as it can take 3-4 days. You will need some small pumpkins of various sizes. You can cut them into various shapes like peace signs, triangles, etc. After carving the pumpkins, you can add some LED lights inside and light it up for a spooky effect!
Tombstones: 

There won't be a better time than Halloween to integrate your love for horror flicks into something positive. Halloween is the perfect opportunity to set up some tombstones with fake bodies lying around! You can also have scary writing on the tombstone saying "R.I.P".
Spider web:

 Another great idea for decorating your campus is setting up spider webs all over so that it looks like there are spiders everywhere!
Walls:

 If you are short on cash, then this is the best idea for you! All you need is some fake blood, fake cobwebs, and some fog machines. Just make sure to get permission from Campus security before doing any of these things. You can put up this decoration all over college walls or in dark places like tunnels.
The Haunted house:

 This is one of the best ideas for Halloween on Campus! The only problem is it requires some planning, time, and effort. If you are planning to set up a haunted house in your college, then you will need some old clothes, fake blood, fog machines, etc. You can put up these things all over your campus and during the daytime, you can set up fake food stalls and other things outside. Then at night, turn off all lights and light candles that create a spooky effect.
Halloween is one of the best festivals when it comes to letting your imagination go wild. So don't be afraid! Channel in your creativity and you will have a good time with friends on campus this Halloween!
Halloween Snacks that are Affordable and Easy to Arrange/Cook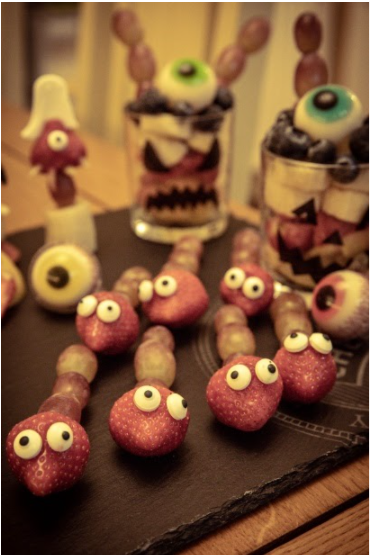 If you are planning a Halloween party for your friends then there is no doubt that the food plays a very important part. Getting some good-looking Halloween snacks ready will also add to your creativity and make your party look great! Here are some easy, affordable, and truly interesting Halloween treats ideas:
Bats:

 This one is really simple. All you need to get for this idea is some pretzels and peanuts. Get a thick black marker and start drawing bats on the top of the pretzels (on a plastic cover of course). You can also add plastic eyes if you want. This will be an extremely creative addition to your Halloween party!
Witches:

 Again, another amazingly simple idea that requires only a few things. You can use pretzels and peanuts for this one too! To give your witches a creative look, just add some fake eyelashes on the eyes and make the hat from a paper plate or something you have lying around at home! This will be another great addition to your party snacks!
Haunted House:

 For making this Halloween treat, you will need small-sized ghost pretzels! You can add some mini chocolate chips for the eyes. This is a very simple idea and is perfect for your little ones who love to gorge on Halloween treats!
Mummies:

 Similar to bats but in this case, you will require candy corn too. To give it a spooky effect, you can add some chocolate chips for the eyes. If you want to give it a very scary look then you can also use jelly beans!
Frankenstein's monster:

 For this Halloween treat, all that is required are bananas and peanuts. You will require putting one end of the banana into each peanut before sticking them together like Frankenstein! For eyes, get some raisins and add them to the 'monster's face'.
Jack-o-lanterns: 

To get started with this Halloween snack, you will need some pretzels. Get a large-sized orange marker and start drawing jack-o-lantern faces (on the plastic! If you want to make it look extra spooky then you can use a marker with glow in the dark ink). You can even add some chocolate chips for the 'eyes'.
Tips on Maintaining the Social Distance in Halloween Parties
Halloween parties are really exciting but you should also be cautious not to go overboard with the celebrations. This is why it is important to find a balance between scary and safe while celebrating Halloween. Here are some tips that will help you stay safe in the post-COVID Halloween party by maintaining social distance:
Make sure that your Halloween party is not a public event. If you are planning to have a huge Halloween party then the best option is to have it at someone's house or maybe even in a big park with a lot of space to spread around! This is going to help you ensure an exclusive celebration with only people who you want to be there!

Arrange chairs in a circular pattern so that you can have conversations easily even while sitting 6 feet apart from everyone else.

Set food tables at multiple points and ask the guests to be in the queue at marked distances. This will create a fairer system and your guests won't be invading each other's personal space.

Ensure that the music is not too loud for people to comfortably chat with each other. 

Invite everyone you want to but if you notice an acquaintance who is trying to come closer then politely ask him/her to stay at a certain distance that is comfortable for you!
If you follow the above rules and tips then your Halloween party will be a success without having any Halloween Corona horror stories to share with friends later on!
Virtual Halloween can be Interesting too!
You don't have to wait for a Halloween party to enjoy the festivities of this spooky occasion. Virtual parties are all the rage these days and you should start with your online presence! You can do this by:
Getting an amazing Halloween avatar on WhatsApp or Facebook, complete with scary hair and ghostly eyes!

You can wear a pumpkin hat for your posted selfies to get into the Halloween spirit.

Don't forget to share some of your favorite Halloween memories from years gone by on Facebook and Instagram!

In virtual Halloween parties, it's not just about you! You can also wish all of your friends and family a fun and spooky Halloween by sending personalized emojis and text messages!

Be sure to check out some brilliant wallpapers on the internet that will make your computer or laptop screen look like it's straight from a scary movie scene.

Inform all participants of rules on who will lead the conversation, how to indicate you want to say something, and how to avoid everyone talking at once – which spoils all the fun. Give a fixed time to everyone to present their characters and showcase their costumes – like everyone is on a stage – which all of you are – in the virtual world!
Just remember to stick to your comfort zone when you are with people on virtual Halloween. Even though it might be a purely online party, you still should attend one where people can interact easily without any communication barriers between them!