Australia has a lot to offer, regardless of whether you are thinking about going to school there for higher studies or just planning a good vacation. Here, we will look at the top five places to travel in Australia.
Due to a variety of factors, Australia draws tourists from all over the world. It has a lot to offer everyone, irrespective of age and interests. It is a great tourist destination for all, whether it is tourists eager to travel the nation or students looking to study abroad.
You may be here in Australia for any reason, but if you do not visit some of its excellent places, you will not do justice to yourself. There are a few locations that you simply must include on your "must-visit" list. Here are just five locations to check out while "down under", another name to refer to Australia.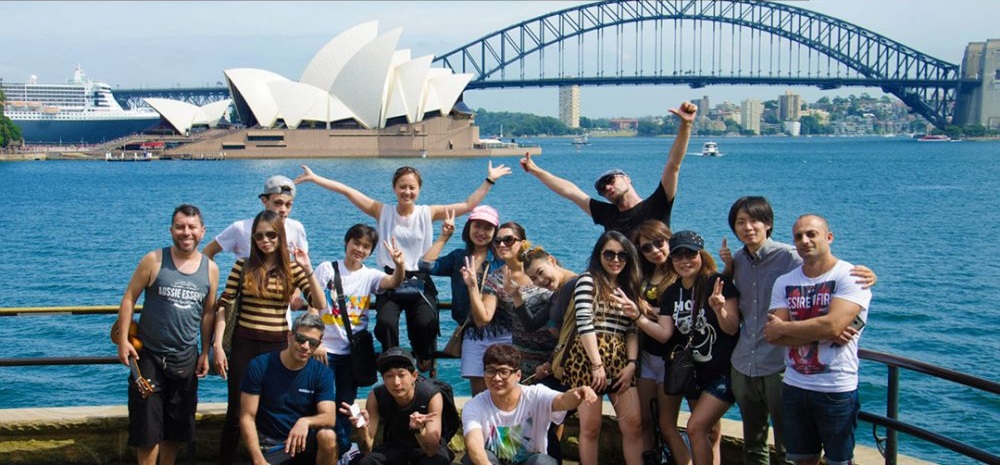 Melbourne
Melbourne is a city located on the south coast of Victoria, a state known for its lush vegetation. This city, which is the third largest and second most populous in the entire nation, has a lot to offer both tourists and people who want to live there.
It will please foodies and coffee lovers to know that the city is home to over 4,000 restaurants and is renowned as the country's capital of cafés. Visitors won't often get bored there because of the variety of museums, the vibrant music scene, and the numerous events that take place there all year long
For international students, the city is the ideal place to settle in. Academic institutions like The University of Melbourne, which is renowned for providing a wide range of excellent courses with a specialization in the nursing sector.
Australia is a really well-liked nation that many people both who visit and call home adore. Naturally, a country that size has a lot of places you might wish to travel to. These are just a few places you might adore down under, ranging from the most urban to the most rural.
Sydney
One of Australia's largest cities and undoubtedly one of its most well-known is Sydney. Both those who wish to visit and those who want to dwell in this coastal city have a lot to choose from. Due to the fact that more than 40% of the population was born abroad, international students will feel completely at home here.
The University of Sydney, one of the nation's top universities, is located in the city and reflects the variety of the area. You won't be alone because one in five students is an international student.
There is a tonne to do here, from touring internationally renowned attractions like the Sydney Harbour Bridge or Sydney Opera House to taking a quick excursion to a nearby natural area.
Many well-known travel websites have also praised Sydney as a great food city. You can find amazing places to eat every day and never get bored there because of the diversity of people and cultures.
Gold Coast
The Gold Coast is a modern city with a gorgeous shoreline and azure oceans that is located on Australia's east coast. Both tourists and international students can benefit greatly from the city.
Take a stroll around Surfer's Paradise, one of the most well-known beaches in the nation, or check out Bond University, the best university in the area, where over half the students are from abroad. The Gold Coast is frequently referred to as a "nocturnal" city because of its thriving nightlife, which may attract people who enjoy experiencing a city's nightlife.
For those in search of equilibrium, this region of Australia is perfect. Depending on your preferences, this vibrant metropolis can frequently resemble a little town and is in a great location. Maybe you're seeking ‌a few days with a bit more activity? If so, Brisbane, Australia's largest city, is only a short drive north. You may easily reach the stunning Sunshine Coast by traveling only a short distance south if you're looking for something a little quieter and more laid-back.
At any time of day or night, you can find something to do or see on the Gold Coast. You'll quickly see why so many tourists and international students choose to stay after spending just a short while there.
Tasmania
The island state of Tasmania is one of Australia's numerous rural and scenic regions. Despite the island's apparent diminution in size when compared to Australia's mainland, Tasmania is still a sizeable island. Over 500,000 people live there, and it is almost half the size of the UK.
The busy city of Hobart and the University of Tasmania are located on the island, despite the fact that much of it is rural. Tasmania, like many other regions in Australia, has successfully managed to strike the ideal balance between modern living and a remarkably untamed landscape.
There is truly something for everyone, whether it's discovering the northern city of Launceston or traveling to the southern region to see Mount Wellington, a natural wonder.
Great Barrier Reef
This is more of a general area than a specific place or city, but it is one of the most naturally beautiful places in the world. The Great Barrier Reef, which has 900 islands and approximately 3,000 distinct reefs, is the largest coral reef in the world.
The region, which is located on the northern part of Australia's east coast, draws visitors from all over the world since there is simply nowhere else like it. It's definitely worth adding to your list of must-see sites, whether you visit while attending local universities like James Cook University or on a tour of the nation.
Conclusion
All the above five tourist destinations in Australia will leave you stunned forever. Each one of the destinations is a complete package in itself. You will just need to take some time out of your busy schedule and hop around. Do not forget to interact with the locals and try local recipes if you ‌really want to get familiar with them. As a student, it will help you in achieving your long-term career goals.